A place where parents and children grow together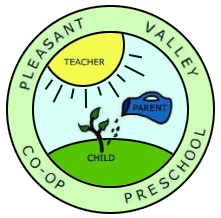 Welcome to Pleasant Valley Cooperative Preschool where we believe that:
"parents are a child's first teacher."
Our school, often referred to as "the Co-op", offers children a creative experience in learning through art, music, science, math, language, reading, writing preparedness, social interactions, educational field trips, large and small motor activities and community involvement. The transition from home to kindergarten is made easier in a warm and caring environment that promotes social, emotional, and cognitive growth.
As a cooperative preschool we encourage and support your efforts as you take an active role in your child's learning. Our program is organized, administered and operated by parents and teachers. Under the direction of the director and teachers, parents work an average of 1-3 days a month in their child's class and attend class with their Toddler. This gives parents the unique opportunity to observe how their child is developing and to learn ways to facilitate this process.
With the collective efforts of parents and the guidance of teachers trained in child development, we hope to make your child's Toddler, Preschool and Pre-Kindergarten years both enjoyable and memorable.
Come visit our school, meet the teachers and many parents. We're located at 440 Skyway Dr. Camarillo, CA. 93010. Call us at: 805.484.0842. Click on the Email or Contact Us links located above to learn more about our classes. To contact the Director, email Director@pvcoop.org. We hope to see you soon.