The History of Our School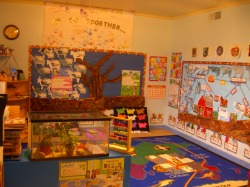 The Pleasant Valley Cooperative Preschool, Inc. was organized in December 1968 starting with two classes held at the Dos Caminos Park Building. Under the auspices of Pleasant Valley Recreation and Park District, and through hard work of participating parents and teachers, the school has since taken on projects that were essential to afford necessary educational materials and supplies. The class enrollment increased to three classes in 1969-70, and in the same year the school sought to expand the children's learning experiences by organizing field trips, building a library collection, providing family fun occasions, and celebrating cultural diversity through world holidays within the classroom.

During the summer of 1977, the Co-op moved from its community center facilities to its present home at Freedom Park, Camarillo Airport. In the fall of 1985, a very successful Toddler-Parent program was implemented and is still part of our program today. In the course of the years, there was steady growth to meet the needs of incoming families; today we have four strong classes. We have enhanced our global views to include; community service and giving, celebrating peace and earth days, and awareness and conservation of our earth resources. Our school has survived through the perseverance, dedication and love of children, from each and every member who has passed through its door.
Our place in the world
We are members of CCPPNS, a national organization for cooperative preschools. California Council of Parent Participation Nursery Schools Inc. (CCPPNS) is a community of parents and educators committed to teaching and inspiring families through parent involvement and mutual support. It is a statewide organization that, since 1948, has served parents who want to share in their child's first school experience. It is a valuable resource of which we have been members since the early 1980's. For more information, articles, parent tips and more... look them up on the web at www.ccppns.org.
Children - Our Investment in the Future
The school is made up of parents, children and teachers and is a changing, evolving unit that affects us all. We encourage parent input; ideas and suggestions that make our school even more enjoyable. Parent participation takes time, but you gain so much! While your child is developing skills and socializing, you too are increasing your parenting skills and sharing your child's preschool world!